Ship Your Boat Now Boat Prep Tips
Proper Prep = Smooth Delivery!
Using Ship Your Boat Now to transport your vessel to your boating destination is a great way to save wear and tear on your crew and/or equipment.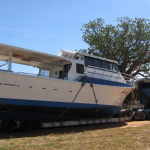 With our extensive history of working with truckers, boaters, shippers, port personnel, DOT, permit agencies, marinas and boat yards, our clients find themselves having fewer delays and greater payload security.
With all of that being said, a safe, secure and on-time boat delivery and transport starts with meticulous planning and preparation.
We do not prep boats for transport. This responsibility rests on you the owner and not the transport company. Have the vessel completely prepped prior to our drivers coming to pick it up. If you do not have your vessel properly prepared to ship at the time of pickup then a fee could be imposed for unnecessary delays.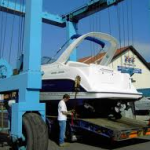 If you need assistance with prepping and/or de/re-commissioning your vessel, we can certainly help in connecting you with a full service marina, boat yard, marine surveyor or captain to meet your specific boat hauling needs.
Important tips when preparing your vessel for transport
Secure EVERYTHING! It doesn't matter how far you are transporting your boat, you should secure it as if you were crossing the ocean. Anything that may extend beyond the hull and could come loose and cause damage during the transport should be secured.
The following should be removed or properly stored; exterior electronics, anchors, antennas, flagstaffs, any valuables, propellers, outriggers, canvas, screens, weatherboards, drain plugs, radar transmitters, dinghies, hailers and Isinglass. Please drain fuel to ¼ of a tank. Please drain the water tanks and if it is during winter months in a cold climate, drain water systems including the air conditioners and pumps.
Disconnect the batteries and tie off the cables to prevent contact. Secure the engine hatch and check for any other loose items that could become loose during the haul.
A wooden boat may benefit from a treatment of linseed oil prior to shipping.
Zebra mussels found on your vessel will result in impounding when moving from an infected state. Be sure to thoroughly check all areas of the boat prior to pickup. DOT officers could check for mussels at weigh stations.
Check cradles and trailers for fit and bolt snugness as well as sturdiness, road-worthiness and structural integrity. If your cradle or trailer breaks in transit, we cannot accept responsibility. If you need professional cradling please notify your shipping coordinator.
Make sure that your vessel is adequately protected if anything happens to go wrong. Discuss the insurance options with your logistics coordinator and be sure to understand the coverage.
Be sure to provide very detailed specs of your vessel. Failure to supply accurate dimensions will severely handicap us in giving you an accurate quote of price and time.
LENGTH: When measuring overall length be sure to include bow pulpits, swim platforms, outboard motors and outboard motor brackets. If the motors or out drives are in the raised position be sure to include that measurement. If the boat is on a trailer, please include the distance from the tip of the trailer tongue to the end of the motor or out drive. Many overpasses have a maximum height of 13 feet 6 inches. If your vessel has an overall height greater than that, your delivery will require special handling and routing which will incur additional cost.
HEIGHT: Measure overall height from the bottom of the keel to the highest non-removable part of the vessel. The draft plus clearance equals total or overall height. If the bridge can be removed then measure the vessel without the bridge but please provide the bridge dimensions anyway to ensure proper pricing and transport.
BEAM/WIDTH: Measure beam/width at the widest part of the boat including any attachments. If your vessel is wider than 8 feet 6 inches then it most likely will qualify as an oversize load and require permits.
Once you properly prepare your vessel you can sit back, relax and rest assured that Ship Your Boat Now has your vessel in good hands.