Ship Your Boat Now Boat Shipping & Transport

Ship Your Boat Now Safely, Securely and On Time!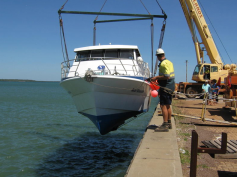 Ship Your Boat Now delivers world class boat and yacht transport and delivery services to virtually any destination around the world.
Our crew is made up of actual boaters and Coast Guard licensed Captains! We have close relationships with the best carriers who access the best routes and can handle your boat hauling job at the most realistic, economical price.

If you are looking for a boat shipping service that delivers above and beyond expectation, on time and within budget then you have come to the right place. Our support staff is available 7 days a week, 24 hours a day, 365 days a year!
We understand the unique requirements of boat delivery and yacht transport and are dedicated to making you a lifetime client with our V.I.P. white glove service. No matter if you are moving a jet-ski or luxury yacht, you can depend on Captain Gary and the team at Ship Your Boat Now for all of your boat hauling needs!
Boat Transport Service
When using a service to transport your boat or any type of vessel, there are a few important things to keep in mind. First and foremost, be sure to give as much detailed information about the vessel as possible. This includes; length, height, beam, accurate current weight, cradle or trailer details, modifications, damage, current location of vessel, special conditions or other issues the vessel may have.
Check out our Boat Prep tips page for a much more detailed list to make the delivery of your vessel as quick and painless as possible. Stop by the Captain's Blog page to get up to date boating and yachting news and tips.