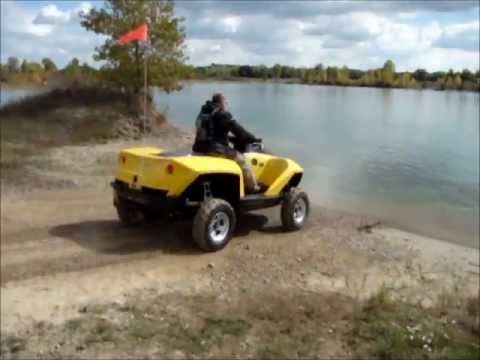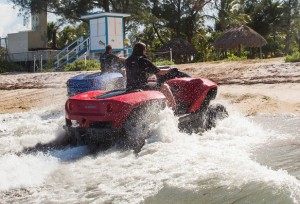 At the 2013 Miami Boat Show we're looking forward to getting a look at the new Quadski that was released in mid-November 2012. The Quadski is an ATV that has an addition that others don't, the ability to ride on water. With one push of a button, and a few seconds for transition, this ATV goes from powering through trails to making waves like a jet ski.
Make sure you come and check it out this year at the Miami Boat Show!
First in the World
Named "The World's First High-Speed Amphibian (HSA)" the Quadski is built with a durable light-weight composite hull, and it utilizes patented water-jet technology and combines with the power of a BMW Motorrad engine and transmission for an extreme ride.
The Quadski comes with a 15-gallon tank and is available in five colors – red, blue, yellow, silver, and black – and is also on sale at dealerships in Florida, Texas, New York, Michigan, and in some Midwestern and southeastern states.
See the Quadski at the Miami Boat Show
Come to the 2013 Miami Boat Show and see the GIBBS Quadski on display at the National Marin Super Yacht Toy Store and get a closer look. Along with the Quadski, you can expect to see nearly 3,000 boats being showcased by over 2,000 companies, a wide range of marine engines, and boatloads of gear and accessories.
The Quadski converts from land to water at the push of a button, which activates the unique retractable suspension system that offers outstanding ride and handling on land, and reacts in just seconds after entering the water. The engine is a four-cylinder, electronic fuel-injected, water-cooled engine that is considered the lightest in its segment.
This HSA is over 10.5 feet long, is 5.2 feet wide, and 4.3 feet high with a wheelbase of 5.8 feet to meet applicable state and federal safety regulations.
About Gibbs Sports Amphibians
Gibbs Sports Amphibians, Inc. (BIGGS) put millions of dollars and years of work into developing the Quadski, and are manufacturing it in a 54,000-square-foot plant in Auburn Hills, Michigan. GIBBS development of the Quadski has made them a pioneer in the development of HSA technology that will lead the way to a new way to have fun with ATVs.
GIBBS other division Gibbs Amphitrucks Inc. put out similar products, but designed for military or first responders instead of for sporting.
More information about GIBBS and its HSA technology can be found at www.gibbssports.com.
See the Quadski in Action